New Nissan Denver Review – 2021 Nissan Rogue for Sale in Lakewood near Denver CO
Denver Review – 2021 Nissan Rogue


View Inventory
Vehicle Overview
What's the state of compact crossovers in the industry right now? The 2021 Nissan Rogue is a fitting answer to this question. Its expertly designed two row seating design leaves room for 5 people to enjoy its interior comforts. Our 2021 Nissan Rogue review here at Empire Lakewood Nissan is crafted with you, the buyer, in mind. We want to take you inside the Rogue, let you look under the hood, and help you visualize Nissan's new design for the model. It's our way of serving Denver Colorado with a way to meet the SUVs you lover before test driving them. Let's dive in!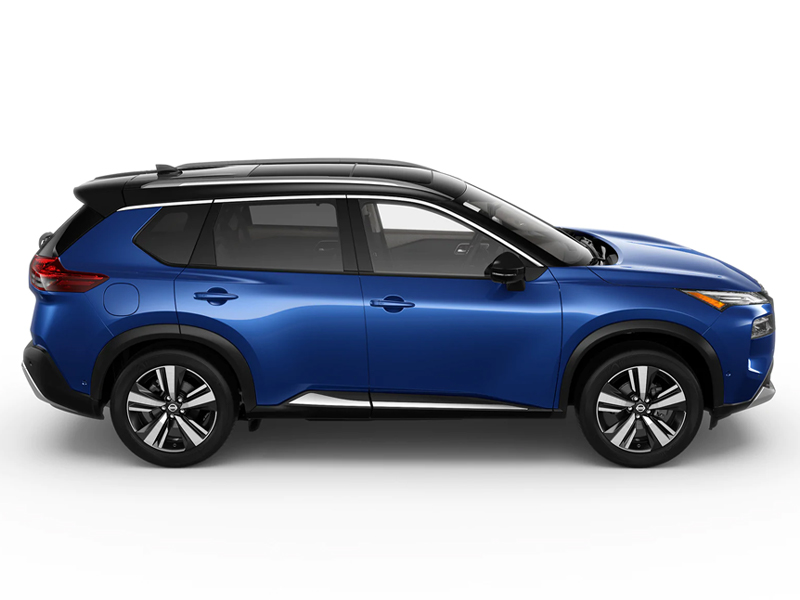 Exterior – 2021 Nissan Rogue
The exterior of the new Rogue has impressed many a reader of our Denver review efforts on the model. The Rogue's more minimalist grille is still blacked out and sporting the Nissan Logo, all while richly surrounded by chrome accents. Smaller LED headlight strips give it a futuristic appearance, beckoning you to go forward into the future and see just how far the new Rogue can take you. Deep tinted glass and a glass roof make for another exciting possibility. And of course, you'll never have to worry about fiddling with your tailgate while trying to load your Rogue. Its hands-free liftgate does all the heavy opening for you.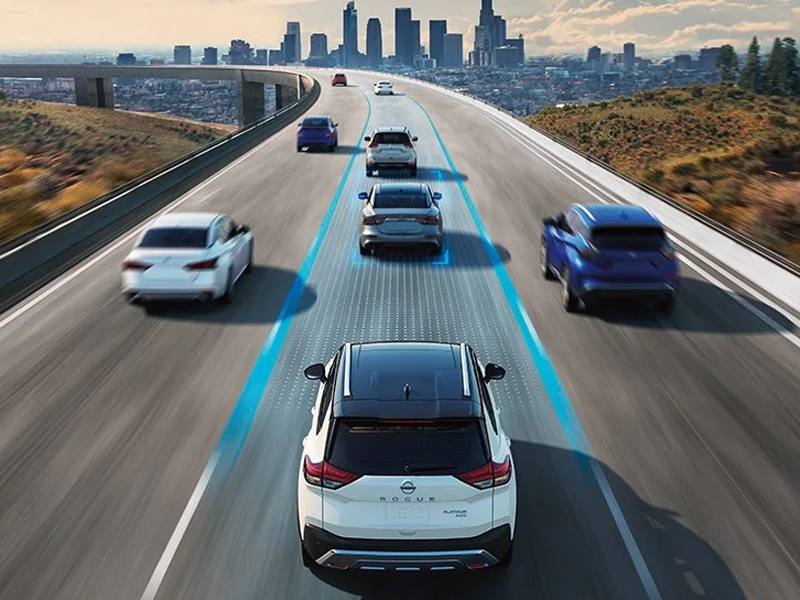 Interior – 2021 Nissan Rogue near Denver CO
Greatness starts with technology and interior layout. With that in mind, Nissan sets up one of the most eloquent expressions of automotive technology in the compact industry. There's three high-tech touchscreens to play with in the 2021 Rogue. The large 9″ touchscreen infotainment system, heads-up display, and large color digital instrument cluster give you a high tech playground that never gets old. Creating a "sensory experience" for customers was Nissan's vision for the Rogue. Its cabin is decked out in ambient interior lighting that sets a calm mood. Nappa leather-appointed seats pushes the sensory experience even further forward, allowing you to bask in the quilted goodness that Nissan crafted just for you. And with tri-zone automatic temperature control, each person in the Rogue can really sit back and enjoy the ride in sweet comfort.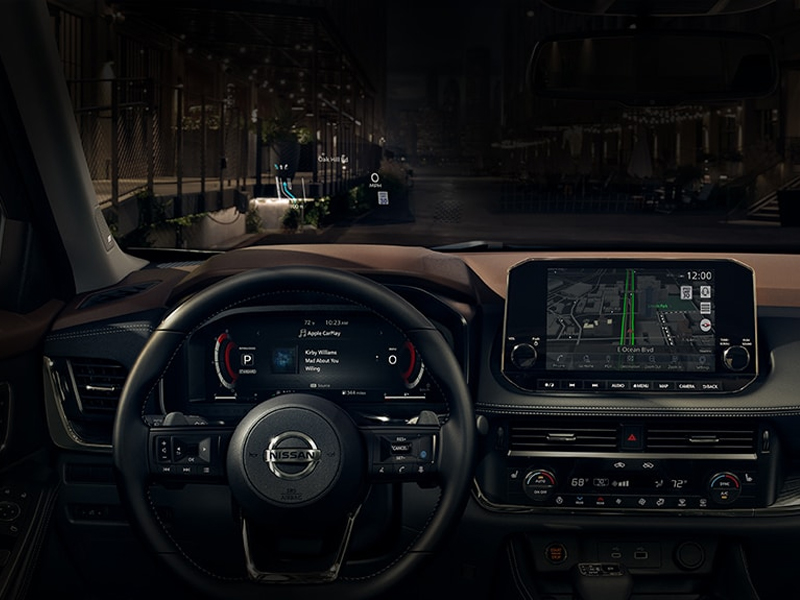 Mechanical – Nissan Rogue specs near Denver
The CVT transmission from 2020 carries over into the new year with slight tweaks and innovations. Where the news lies here is in the brand new powertrains you'll have to choose from. There's more power on the 2021 Rogue, giving us a wonderful reason to reconsider the Rogue in 2021 even if it was passed over the previous year. What kind of power are you working with? Intelligent All-Wheel Drive is another important factor in what makes the Rogue drive so smoothly. With its smart drive modes and expert responsiveness, you always feel like you're in command of the road when you're behind the wheel of a new Rogue.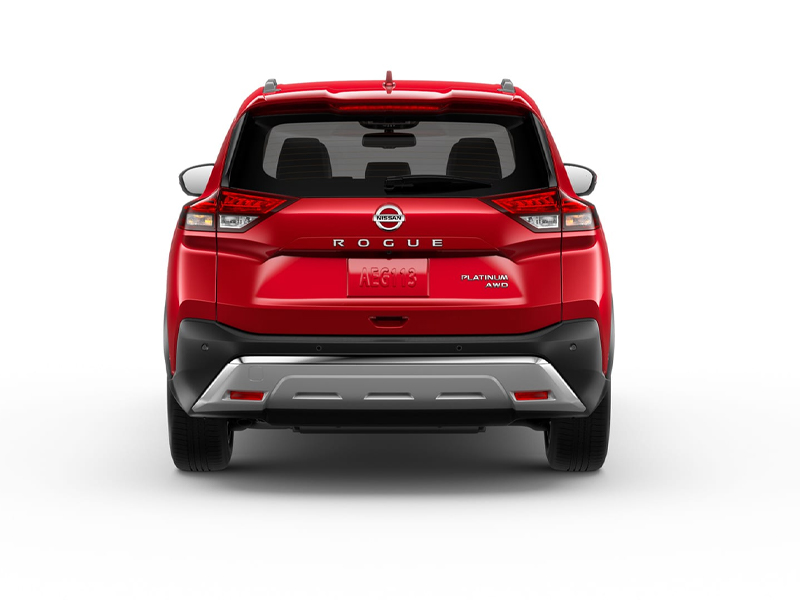 Powertrain – Nissan Rogue specs near Denver CO
This year's Nissan Rogue gets a 181 horsepower and 181 lb-ft of torque 2.5L engine, a step up from last year's 170 horsepower model. When this more powerful engine is combined with the CVT, it really ramps up the stakes in many a Denver review. When you drive the new Rogue at Empire Lakewood Nissan, you'll quickly discover the peppier drive of the 2021 model. When you combine the more powerful drive with standard Safety Shield 360, you have a Rogue that provides one of the most confident, authoritative drives on the planet.
Safety – 2021 Nissan Rogue dealer
Nissan's "Intelligent Mobility" platform for designing SUVs continues to make headlines for this year's Rogue. It receives the royal "intelligent" treatment most of all on its safety systems. You'll appreciate blind spot monitoring, a feature that alerts you to any obstacles or even people who get in the blind spot of your vehicle. Your Rogue doesn't just alert you to danger anymore. It's fully capable of adjusting steering, braking, and even acceleration to make sure that you avoid accidents that you couldn't have in the past. We also love the new lane keeping systems on the Rogue. They're an exciting blend of straight out alerts and high tech interventions that prevent accidents while you're on the highway. Add that to a sturdy, tough build, and you've got a little SUV that can hold its own anywhere in roams.
We hope our 2021 Nissan Rogue review is a testament to our commitment to serving Denver Colorado customers with quality information about today's hottest crossover SUVs. The Rogue stands out as one of the hottest new crossovers in history, genuinely offering up an affordable, exciting ride that gets you on your way to where you're going. Please take a moment to look over the Rogue's new trims! Our website makes it easy to explore the pictures and information on the new Rogue so that you can make a purchasing decision right from your smartphone or home computer. Call us if you have any questions. We're always here to serve you.