2021 Nissan Rogue in Lakewood CO
View Inventory

Vehicle Overview
When Nissan began remodeling their already superb Rogue for the 2021 season, they wanted the perpetually popular compact crossover to stretch into new territory. Not satisfied with being a mere average SUV, the 2021 Nissan Rogue ventures into brand new universes this year, tidying up its interior into a posh homely environment that will make your family feel snug as a bug in a rug. Empire Lakewood Nissan welcomes you to our Lakewood Nissan dealership this year and hopes you will seriously consider the 2021 Nissan Rogue review before you buy. Our information is here serving Lakewood Denver Aurora Longmont with quality specs and feature lists that will help make your decision easier. Why is Empire Lakewood Nissan recommending the 2021 Nissan Rogue this year?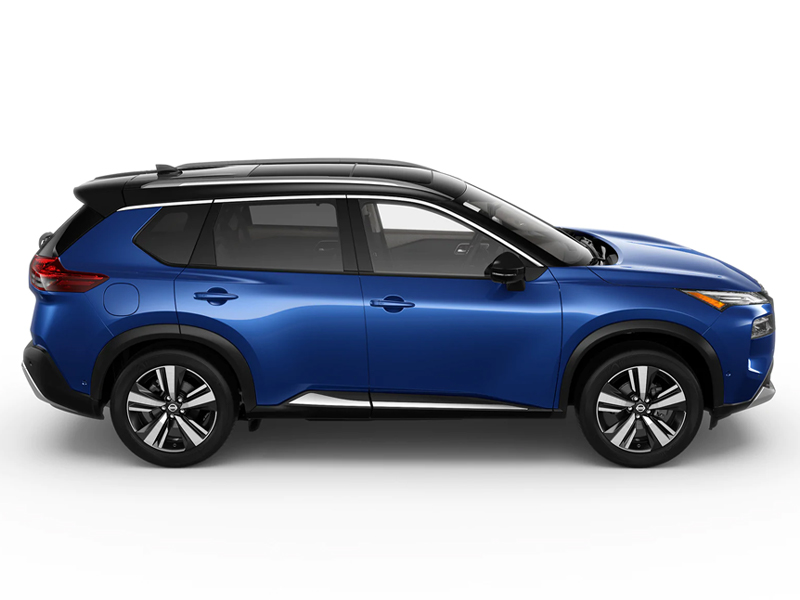 Exterior - 2021 Nissan Rogue
The glass roof options, hands-free power liftgate, and tasteful, blacked out grille with chrome surround on the new Rogue is proof enough that this model has arrived in a big way. The slanted roofline boasts deep tinted glass that stands out against the sophisticated colors you have to choose from. And while we don't have all the specs on the new Rogue yet, we do know that it will have automatic LED headlights. Bezels are all around the lighting and then of course, there's a lot of chrome accents on the interior, including around the windows. It's a standout debut in every way.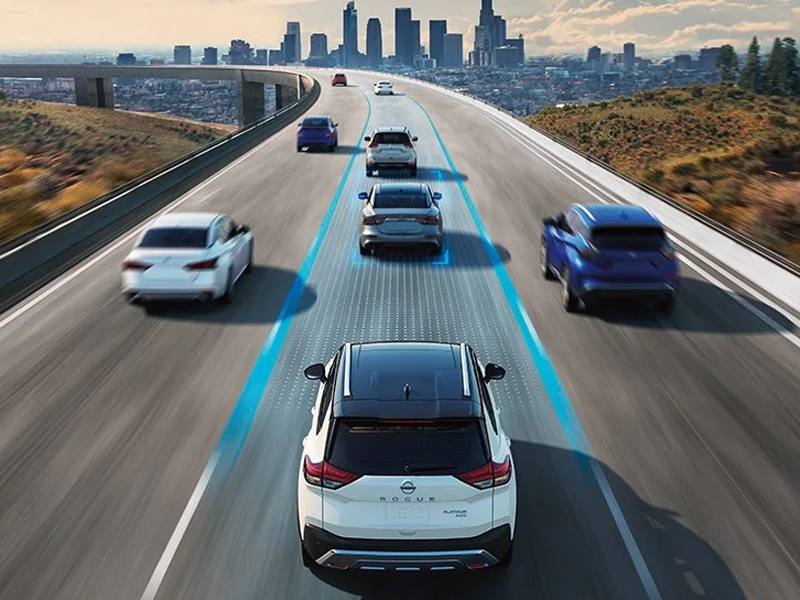 Interior - 2021 Nissan Rogue in Lakewood CO
All good compact SUVs start out with a well-designed interior. When you're working with less real estate on the interior, a designer must position seats and panels so that everyone feels like they have pleasant room to breathe. The new Rogue's premium interior has been mentioned in many a 2021 Nissan Rogue review. How does quilted Nappa leather seating sound? Or features like wireless device charging so that you can ditch the wires and still keep your beloved smartphones and tablets charged for the journey? The new 9" touchscreen infotainment system in the Rogue gives you just a "little more," but that extra screen size really makes a difference when you're using camera and navigation features. The picture is crisp and clear as well, opening up a world of entertainment and utility for your adventures.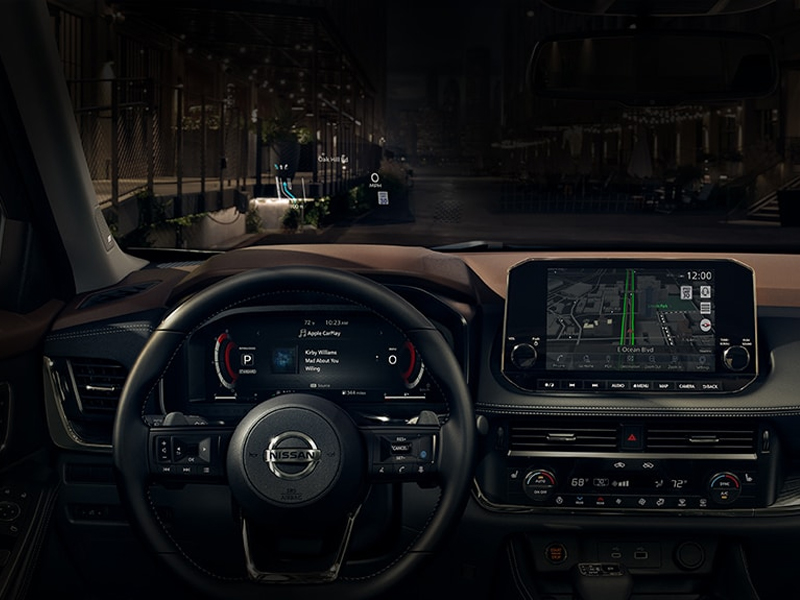 Mechanical - Nissan Rogue in Lakewood
Nissan went with the outstanding CVT transmission they've used in the past on the Rogue, and it's even more efficient and powerful this year thanks to the stronger engine. All-wheel drive is available on every single trim, giving you the peace of mind you need in those tough weather conditions we all face sometimes. When you're out there on the road driving, the Rogue always has your back.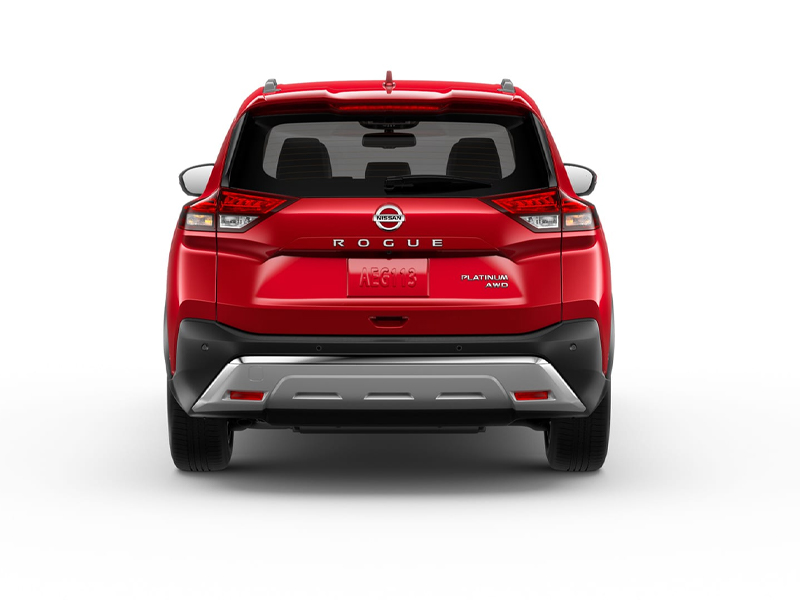 Powertrain - Nissan Rogue in Lakewood CO
Nissan boosted the Rogue's performance profile by modifying the 2.5L engine it came with last year. The net gain of horses is 11. This year's Rogue will net you 181 horsepower and 181 lb-ft of torque for a powerful, even performance. Even better, you'll get better gas mileage out of the more efficient engine. While the powertrain has still only been released in its base form, we do know the horsepower, and it's an improvement over last year. As we get more information, we'll fill you in more. For now, just knowing that the Rogue will feature all-wheel drive and more horses is enough to recommend the model to people who want affordable, powerful performance out of their compact SUV.
Safety - 2021 Nissan Rogue dealer
New safety features are one of the primary reasons we believe every customer should consider the Rogue this year. Nissan's Intelligent Mobility continues to set the standard for driver-assist features. You'll get bold features via Safety Shield 360, including Lane Departure Warning, Rear Cross Traffic Alert, High Beam Assist, and Auto Emergency Braking with Pedestrian Detection. The last choice on that list is one of our favorite. When you live in a busy neighborhood, you often encounter pedestrians who aren't paying attention. And sometimes when you're distracted, tragedies can occur. Thanks to Safety Shield, you have a Rogue that can pay attention when you aren't (though you should always pay attention). If the vehicle senses a pedestrian in the path of your vehicle or directly behind it, it can automatically brake to prevent the collision. Now you can rest a little more easy as you're out there living.
Contact Us Today - 2021 Nissan Rogue dealer
Lakewood Nissan dealership will be serving Lakewood Denver Aurora Longmont customers with specials on the new 2021 Rogue all year long (and beyond). Why? Well, this is a small SUV that we believe in in a big way. With its rejuvenated interior design and futuristic athleticism, we believe it's one of the best SUVs in the word in any class. As Nissan says, it's "unlike any other." Find out why here at our Lakewood dealership. Just call us today to learn more about the Rogue's features or stop by for a full test drive. Our team will be happy to let the Rogue prove itself to you.